My husband loves my zucchini and summer squash casserole but I wanted to try something different with the delectable squash.
In my opinion, this is even better than my eggplant parmesan and the perfect light, satisfying summer dinner. I love salad, especially during the warmer months, but sometimes a fresh homecooked meal tastes especially great.
Zucchini, classified as a fruit because of its seeds, is super low in fat, carbs, and sugar and rich in nutrients including Vitamins A and C, B6, Potassium, Magnesium, and Manganese which helps the body form connective tissue, bones, blood-clotting factors and is also necessary for normal brain and nerve functions.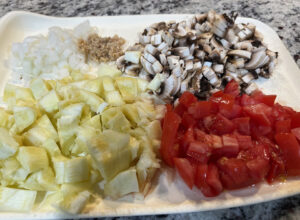 The ingredients are simple and most likely you will have most of them available in your refrigerator. You can serve this dish with a fresh salad or a side of pasta.
It comes together in about 20 minutes and bakes for about 40 minutes. Therefore from knife to plate you will have an amazing dish in only an hour!
ENJOY!